Tiwi Land Council Chairman
Gibson Farmer Illortaminni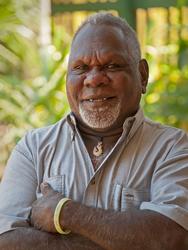 Gibson Farmer Illortaminni was born in 1958 at Milikapiti on Melville Island. He was educated in Darwin and Queensland before returning to the Islands in the 1970's to work as an apprentice forester with the Commonwealth and later Territory Governments, who were developing forestry plantations on Melville Island.
Mr Illortaminni is a senior elder of the Mantiyupwi people and was an early supporter of the formation of the Tiwi Land Council in 1978. He is a strong advocate for education and training, and the creation and security of jobs on the Islands for Tiwi people. The Tiwi College was built on 400 hectares of land owned by Mr Illortaminni's family. Mr Illortaminni also successfully represented the interests of his people in land claims over the Vernon Islands.
During the period of community local government, Mr Illortaminni was re-elected three times as President of the Milikapiti Community Local Government Council. He was also a strong foundation member of the Tiwi Health Board. He was affected deeply by the suicide of his brother in the late 1990s and has demonstrated courage, passion and dedication by choosing to share this deeply personal issue and seek out programs that could help his people. His national profile as an advocate for families affected by suicide has provided him a network of friendships and connections across the country.
In 2005, Mr Illortaminni joined Great Southern Plantations Limited as a forestry worker and quickly became a respected Manager and Liaison Officer, and developed programs to increase the number of Tiwi forestry workers. When Great Southern Plantations went into receivership in 2009, Mr Illortaminni led Tiwi landowners in 2010 to establish their own Tiwi Plantations Corporation to manage the existing plantations to harvest. He was appointed Chairman of the Tiwi Land Council in 2012 and has since been re-elected for a fourth and third 3-year term.